SS Nomadic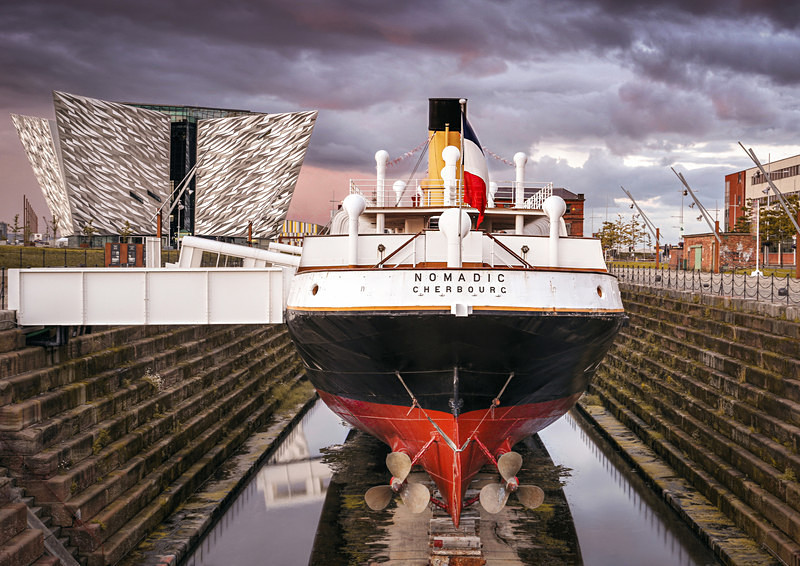 The SS Nomadic is the only surviving 'White Star Line' steamship. The Nomadic was built at Harland & Wolff shipyard, Belfast. Construction work began on her in 1910 and she was launched in April, 1911. The Nomadic was built as a tender to the RMS Olympic and the RMS Titanic, as they were too big for the docks in Cherbourg harbour, France. She was built in the UK but operated in French coastal waters, by a French crew. She was designed to ferry passengers, their baggage and ship supplies to and from the large ocean liners moored, off-shore.

The ship is 230 feet long and 37 feet wide. She had four working decks, with various hold spaces beneath. She could carry up to 1,000 passengers when fully loaded. Internally, the Nomadic was fitted out to a similar standard as the liners she was built to serve. There was decorative joinery and plasterwork, especially in the first class lounges.

One of her most iconic voyages was to transport 274 passengers to the RMS Titanic, for the doomed liner's maiden voyage, on 10th April, 1912.

During WW1 and until 1919, the Nomadic was required by the French government, and she saw service as a minesweeper and a patrol ship. After the war, she returned to tendering duties. However, in 1934 the White Star Line and Cunard Lune merged and opened an enlarged port at Cherbourg, ceasing her duties.

In following years she was used by the Royal Navy, and was based in Portsmouth harbour, she operated as a troop ship and coastal patrol vessel for the remainder of the war.

She lead a varied life but she finally retired from duties, in 1968. From then, she lay idle for five years, before being bought by a private individual and was extensively converted into a floating restaurant and function vessel, on the river Seine, Paris. By 1999, the business was in financial difficulty and the Nomadic was seized by the Paris harbour authorities.

In 2005, the authorities sought to dispose of the vessel and attempted to find a buyer for the Nomadic, otherwise she was at risk of being sold for scrap metal value. On learning of her fate Northern Ireland's Department for Social Development bought the vessel at auction. She returned home to Belfast, in July 2006, close to where she was built.

As of 2014, the ship has been restored by a £7 million conservation scheme, and sits pride of place in Hamilton Dock, Belfast. The iconic Titanic building can be seen in the background, on the left.
| | |
| --- | --- |
| | |