Legananny Dolmen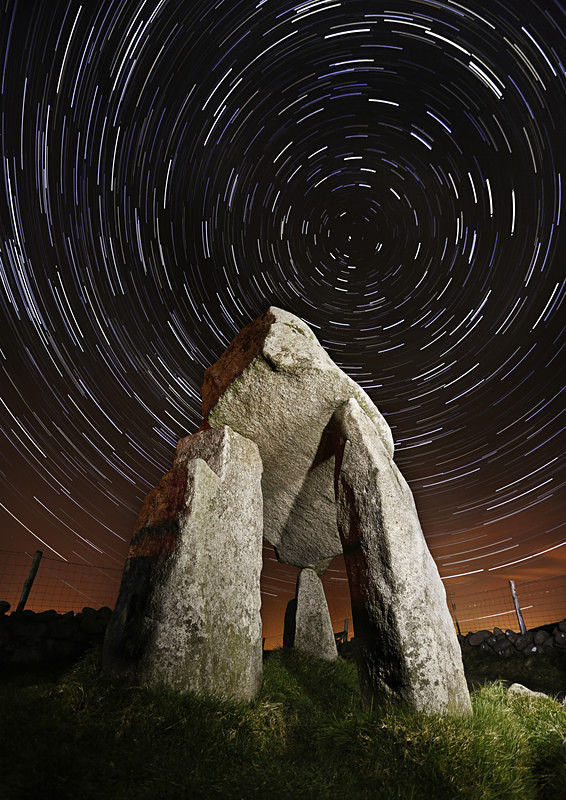 Legananny Dolmen is on the lower slopes of Slieve Croob mountain, near the village of Leitrim, Co. Down. The Dolmen has been dated to the Neolithic period and is believed to be around 4,000 years old. A dolmen is also known as a portal tomb. Originally, the tomb would have been covered with earth. However, over the years this has weathered away to reveal the granite stone 'skeleton' of the burial mound. The heavy granite stones would have been dragged some distance before being set in place.

It remains unclear exactly why, and by whom, the dolmen was made. However, archaeologists generally regard it as a burial chamber. Whatever the reason for the creation of the dolmen, one can be sure that the people who built it looked at many of the same stars in our night sky, and appreciated them all the more without the light pollution, and various other distractions, we have in this modern and technological era.

The stars were an important part of life for these pre-historic people. Especially when it came to a navigational aid. The 'North Star', also known as the Polaris, is directly over the north rotational axis of the earth. This means that wherever you are in the northern hemisphere, this star will appear to remain stationary in the sky, and all the other stars will appear to rotate around it. This is not the stars moving, but just the effect caused by the rotation of the earth. Only the North star remains fixed. It was, and still is, an ideal point of reference to navigate from.
| | |
| --- | --- |
| | |